Teachers
Tania Riley
Role
Room 7 Teacher, Year 1 & 2
Email
Sian Wells
Role
Room 8 Teacher, Yr 1&2
Email
Qualification
B Ed, Dip Tchg
General Information
Sian trained for primary teaching at Palmerston North College of Education/ Massey University from 1990 - 1996 and spent her first 5 years teaching Intermediate students. She loved this and really believed she was lucky to enter such a rewarding profession.
In 2000, Sian lived and taught in Australia for a year then onto the UK for 2 years. She returned home to have her 2 children, Ayla and Harrison. Sian was an at home Mum for 7 years and during this time she joined Playcentre as a parent, then Educator and her love for working with younger children began.
Sian has been at Crawshaw School for 12 years and enjoys the warmth and excitement that Crawshaw children bring to the classroom.
Her life is pretty busy juggling work and her children but when time allows she enjoys socialising with friends and family, supporting the Chiefs games, reading, gardening, biking, camping and exploring nature.
Michelle Matthews
Role
Room 9 Teacher, Year 2
Rachel Watts
Role
Room 10 Teacher, Yr 5&6
Email
Anita Krishna
Role
Room 11 Teacher, Year 4
Email
anita.krishna@crawshaw.school.nz
Qualification
BEd(education & maths) and Postgraduate Diploma in Education
General Information
Anita teaches our Year 4 and 5 students in Room 11.
My Mihi/Pepeha
Ko Taupiri Te Maunga
Ko Waikato Te Awa
Ko Krishna Temple Te Marae
Ko Apanna Toku Papa
Ko Meena Toku Mama
Ko Anita Taku Ingoa
Ko Ronald Toku Tane
Ko Nikhil Toku Tama
Ko Neha Toku Tamahine
Jojo Brown
Role
Room 13 Teacher, Year 7 & 8
Renee Samuel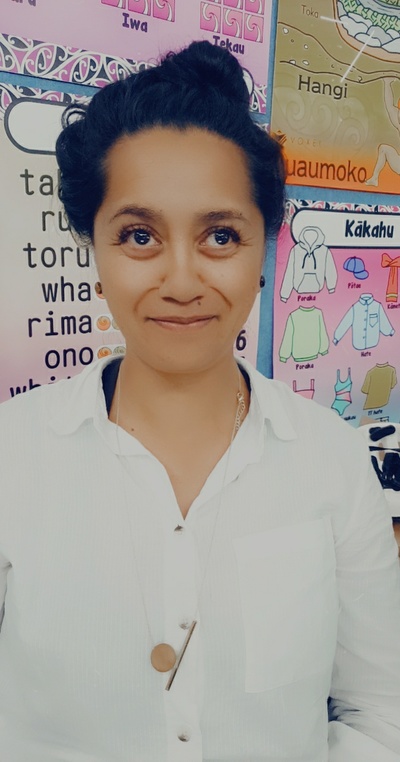 Role
Room 16 Teacher, Year 7 & 8
Email
renee.samuel@crawshaw.school.nz
Qualification
BSR-A.U.T, GradDip Teach (Primary)-UofW
General Information
He uri au no Tainui me Mataatua
Mootakotako me, Te Tihi o Moerangi ngaa marae
Ngaati Te Wehi te hapuu
Karioi te maunga
Aotea te moana
Waikato Tainui te iwi
Opureora te marae
Ngai Tuwhiwhia te hapuu
Matakana te moutere
Mauao te maunga
Tauranga te moana
Ngai Te Rangi te iwi
Mataatua te waka
Ko Renee Samuel ahau.
Hiria Ngatai
Role
Room 17 Teacher, Year 5 & 6
Email
hiria.ngatai@crawshaw.school.nz
Qualification
BTchg Primary
General Information
Ko Whakapoungakau nga pae maunga
Ko Waingaehe te awa
Ko Te Rotorua nui a Kahumatamomoe te roto
Ko Te Arawa te waka
Ko Whakaauekaipapa te iwi
Ko Ngati Te Roro o Te Rangi te hapu
Ko Owhata te Marae
Ko Tutanekai te Whare tipuna
Ko Hinemoa te Whare kuia
Ko Hiria toku ingoa
Ruia taitea, Ruia Taitea. Ka tu ko taikaka, ko ahau anake.
Kelly Baird
Role
Hall 2 Teacher, Year 3 & 4
Elizabeth Hassan
Role
Room 6 Teacher, Hamilton North
Qualification
BED, Dip Tching
General Information
Elizabeth trained at Waikato University and has spent many years teaching students with special needs.
She has lived and worked overseas for ten years and now lives in Raglan.
In her spare time, Elizabeth enjoys running, rowing and gardening.